Marriott Launches Pepsi/Aquafina Campaign for 2021

If your summer travel plans have you visiting a Marriott hotel, then you have an opportunity to give to one of our 170 Children's Miracle Network Hospitals across the U.S. and Canada and make a positive impact on kids' health.  Now through August 31, Marriott properties across the U.S. and Canada will be donating a portion of the proceeds from the sale of select Pepsi and Aquafina products to help our member hospitals fund their most urgent needs.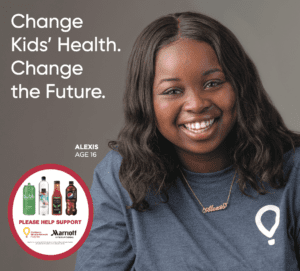 Marriott International holds the distinction of being CMN Hospitals first and longest standing corporate partner.  Since 1983, Marriott has raised of $138 Million to help kids treated at CMN Hospitals across the U.S. and Canada.  In 2020, recognizing that kids could not wait for a return to normal amid a challenging year for all and especially those in the travel industry, Marriott continued its support of CMN Hospitals raising an impressive $3.8 Million through the Aquafina campaign.
As the travel industry begins to rebound in 2021, we hope that you will consider a Marriott property wherever your summer travels take you and support CMN Hospitals while you're there by purchasing LifeWtr, Pure Leaf Teas, Bubly and Pepsi Zero Sugar at U.S. locations and Aquafina, Bubly, Pure Leaf Teas and Evian at properties across Canada.